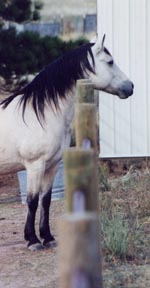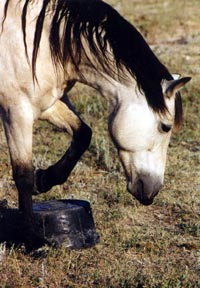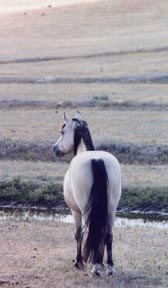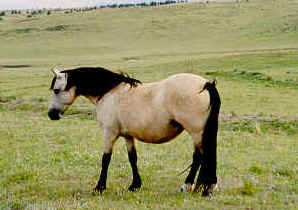 1990 14.1H Dun Mare
Oxenholm Gideon X Millfield's Seaspray

*Glenormiston Roscrea (Oxenholm Gideon X Millfield's Seaspray) is a 14.1H dun Connemara mare bred by Susan Clarke of Glenormiston Stud in Australia. She has been exceptional in the show ring, with 18 Champion Mare or Champion Broodmare wins and 2 Supreme Champion Connemara wins.

For more information on Glenormiston Stud, please click on the link below to see their web site:





Roscrea arrived in Colorado February of 1999, straight from an Australian summer. A measure of her hardiness is that she adjusted without even a sniffle to 0 degree weather and snow. Her only complaint was that she didn't know how she was supposed to drink the water when it was hard! After a few lessons by our retired mare Phoebe, Roscrea can break ice as well as the northern hemisphere ponies.

In 1999, Roscrea had a lovely dun filly by Australian stallion Aran Milano. Wildwych Dreamtime is being retained as a broodmare at Wildwych Connemaras, bringing more new bloodlines to the U.S. In 2000, Roscrea had a breath-taking Flurry filly, Wildwych Silverheels. This mare is aspiring to become our top producer here at Wildwych.