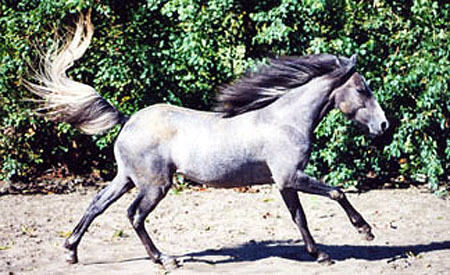 2000 Grey Gelding
*Glenormiston Flurry Knox X Tower Hills Clarion

Evynstarr Metro is a grey gelding born on May 21, 2000. His sire is *Glenormiston Flurry Knox and his dam is Tower Hill's Clarion (*Chiltern Copa of Tower Hill's X Tower Hill's Katie). Metro is outgoing and brave, but still very sweet. He loves children and wants to be a part of their play. Five year old, Kaelin, walks out into the field with him and he stands patiently while she brushes his tummy and legs. Metro is curious about everything, but very little scares him. He likes to splash in the mud and jump pretend "mud monsters." He seems to know exactly where to put his hooves because he never slips or slides even on the wettest days.
Metro is calm, not spooky, loves a game and enjoys attention. He will leave his pony buddies as soon as he sees someone walk into his field. He's very loving and willing to try anything asked. He will be very versatile and make someone a great large pony. Metro and his half sisters, Allie and Hazel, live fifteen minutes outside of New Orleans, LA. If you would like more information on Metro, a video and additional photographs are available. Please email Raelin at Evynstarr@aol.com or visit our website Evynstarr Connemaras.
| | |
| --- | --- |
| | |
| \\ | |