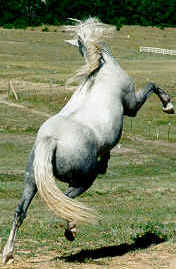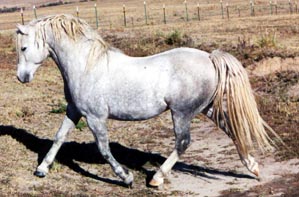 1993 Connemara Stallion. 13.3H grey, born chestnut
*Glenormiston Flurry Knox is the stallion at Wildwych Connemaras. Bred by Susan Clarke of Glenormiston Stud in Brisbane, Australia and imported as a yearling, Flurry has surpassed our wildest dreams. As an individual, he is everything a Connemara stallion should be. At just under 14H, he brings new bloodlines to the United States. From his famous sire, Abbeyleix Finbar (Ballydonagh Rob X Finola of Leam), Flurry has inherited 8.5 inch bone and terrific presence, substance, and type. His dam Oxenholm Tiffany (Rory Raudh X Ardnasillagh Treasure) contributed beautiful movement and a generous temperament.

At Wildwych, Flurry lives in a 20 acre pasture with his mares and foals. Visitors are constantly astonished by his kind and gentle personality. A recent visitor, Grand Prix Dressage trainer Christiane Christiansen, took her two toddlers into Flurry's pasture to meet the ponies. As her young sons petted Flurry, she was asked how many stallions running loose with mares she would permit her young children to visit. She replied: "Only this one."

As a breeding stallion Flurry is superb. His foals have demonstrated amazing consistency. All have his shoulder, topline, neck-set, and hip. All move beautifully and are athletes. Finally, Flurry gave to each his presence and a bold yet kind temperament.

Flurry was the first pony at Wildwych to prove that Connemaras can have it all. We're thrilled that his offspring are continuing in that tradition.

Stud fee for 2002 is $900.00. Live foal guarantee. Live cover only.
For more information on Glenormiston Stud please click on the link below to see their web site: