Connemaras, Kangaroos and Koalas

by Mary Stewart Prewitt
I've always dreamed of a trip to Australia, becoming more excited after importing two Australian Connemaras, *Glenormiston Flurry Knox and *Glenormiston Roscrea. When I was able to visit in March of 1999, Sue and Barton Clarke were most gracious to entertain me for four days at Glenormiston Stud.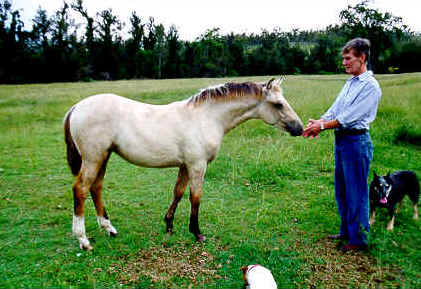 Sue Clark and a 1998 filly by Oxenholm Gideon x Millfield's Seaspray
The Clarke family has been involved with Connemaras for more than twenty-five years. While they were growing up, their children showed Glenormiston purebreds and halfbreds through international levels. Barton drove his four-in-hand of grey Connemaras and served a stint as President of the Australian Connemara Pony Society. In addition to managing the farm and the breeding program, Sue is currently involved in the Society as an inspector and Board members. She is also in demand as a Connemara judge, recently judging the young stock at the Golden Jubilee Show in England.
Glenormiston stud currently has about forty Connemaras and a few halfbreds. The breeding stock was assembled from studs around the world with prefixes like Millfields (U.K), Oxenholm (Denmark), Abbeyleix and Tulira (Ireland) among others. The resident stallions are Domo Cavallo Praize (Australian bred), Abbeyleix Finbar (sire of my *Glenormiston Flurry Knox), and Oxenholm Gideon (sire of my mare *Glenormiston Roscrea). The resulting breeding program has produced high quality, typical Connemara ponies with terrific performance abilities and an Australian flair. They have been foundation stock for numerous breeders in Australia, New Zealand, Thailand and Colorado.
I saw consistent traits in all of the Glenormiston stock. Without exception, they had correct legs, beautiful, yet undeniably typical Connemara heads, powerful hips, and excellent movement. And, of course, that Connemara temperament. Within the Glenormiston look, each stallion puts his mark on his get. It wasn't long before I could pick out a Praize head, a Finbar topline, and a Gideon body in the "youngies" playing in the pasture. This extended down another generation, as I saw get by brothers of my stallion, Flurry, that could easily have been Flurry foals.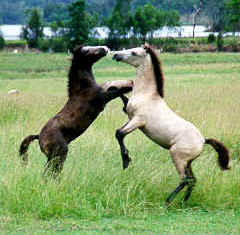 Colts by Abbeyleix Finbar and Domo Cavallo Praize
Traveling to several Connemara studs with Sue as my guide, I met unforgettable people and ponies. There was Ursula, who at 86 still rides her pony daily, even fording the flooded creek bordering her farm; Dave, at Tylani Stud, who hopped bareback astride his stallion Glenormiston Oliver and put him through his paces in the front yard: Rachel, Pauline and Carolyn, who made such a wonderful snack to sustain us on our trip; Wendy and her delightful children, who fed us a fabulous lunch. And all those beautifully groomed ponies tied up to fences to prevent rolling until I could admire them.
I saw about 80 Connemaras on my tour. Probably 70 of them were absolutely correct in their legs and feet. There was a high quality at every stud, with ponies being beautiful as well as typical. I saw few ponies that lacked type and fewer that could be termed coarse. I saw no purebred ponies that went over the 14.2h standard; few were smaller than 13.2h. There were a number of very large halfbreds, however.
There was a real difference between stallions and mares. Stallions exuded masculinity and charisma in that kind Connemara style. They had strong, well crested necks and bone measuring between 8 and 8 ½ inches. Mares were undeniably feminine and had deep bodies and bone measuring between 7 and 8 inches. Even from a distance, there was never any doubt what gender I was seeing.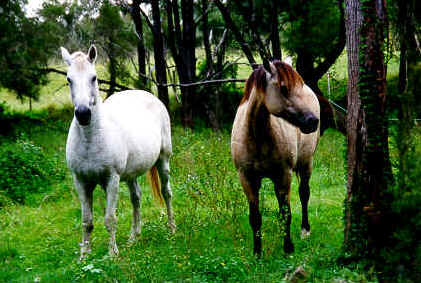 Glenormiston Mares
Glenormiston Rosmare & Glenormiston Dinmerra Bay
Grey was the predominant color. I saw a few bays and duns, and many more chestnuts and palominos than we have here. Chestnut, like bay, is in favor as a "hard" color, without the dilute gene, therefore incapable of producing a BEC. I saw no BEC's, which isn't surprising as neither they, nor their offspring, can be registered in Australia. I also saw a number of ponies with more chrome than we have in our American stock. When I asked the breeders about that, the answer was that white marking were immaterial to them; white is allowed in the standard, so they don't care whether a pony has it or not.
Interestingly I saw far more cancers in the greys than I do here in the U.S. Australia is known for skin cancer in humans due to the hole in the ozone layer in the southern hemisphere. I assume that may also be the cause of the skin cancers in the ponies and in a number of dogs I saw.
Australian stallions must be inspected and approved for breeding. Australian inspectors are rarely Connemara breeders; they are almost without exception show judges or breeders of other kinds of ponies. Lastly, since Australia is so large, inspections are often not organized affairs. If an inspector will be in the area, s/he will be available to inspect ponies. A pony must be approved by three different inspectors to be admitted into the stud book, but that might be over a period of months or years.
The morning that I was leaving Brisbane, Australia, 23 year old stallion, Oxenholm Gideon was carrying me up one of the steepest hills I've ever ridden. I felt like the "Woman from Snowy River", but retired Gideon was unused to toting such weight. His steps faltered. Fortunately there was a TB filly ahead of us, and, with his nose properly directed, Gideon found his second wind watching her swaying tail. We scrambled to the top of the hill as my host, Sue Clarke, pointed out the herd of resting kangaroos below us. Annoyed at being disturbed, they hopped off to find privacy. A bit earlier, we'd seen a wild kola snoozing about thirty feet up a eucalyptus tree. That ride was the culmination of my visit to an unspoiled country, with a marvelous host and some of the most beautiful Connemaras I've seen.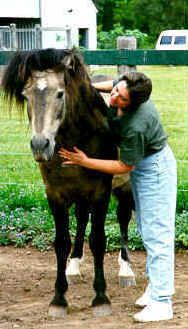 Oxenholm Gideon and me



Copyright 2001-2002, Wildwych Connemaras, All rights reserved.
Website questions and concerns should be sent to webmaster.